Yesterday's NHL Scores
---
Last Night's News 📰
MADNESS IN MONTREAL: Montreal has a new bench boss, as the Canadiens fired Dominique Ducharme and then hired Hall of Famer Martin St. Louis to serve in an interim capacity. Ducharme's termination hardly came as a surprise, but the hiring of the inexperienced St. Louis is considered somewhat out of the blue.
DANES CONQUER CZECHIA: Three days after Denmark's women's ice hockey team earned its first Olympic victory, the men matched the feat with a win in its opening Olympic match. Both triumphs came at the expense of Czechia, as the women won 3-2 and the men 2-1. 
MARCHAND GETS SIX: Yesterday, the NHL suspended Brad Marchand for six games after roughing and high sticking Pittsburgh Penguins goaltender Tristan Jarry on Tuesday. Considered a repeat offender, this was the eighth suspension for the Boston Bruins leading scorer, who served three games earlier this season for a slew foot on Oliver Ekman-Larsson. 
ON WINGS AND A PRAYER: For the first time in 25 years, the Detroit Red Wings won a game in regulation in Philadelphia. Pius Suter, Dylan Larkin, Lucas Raymond, and Robby Fabbri had a goal and an assist as the Wings beat the Flyers for only the second time in their last 18 games in eastern Pennsylvania. 
TUUKKA TIRES: One day removed from announcing he needed the rest of the week to recover, Tuukka Rask decided to officially call it quits. Rask, a 15 year veteran with the Bruins, couldn't get his body back into playing shape and didn't want to stand in the way of another Cup run for Boston. 
---
Tuukka Rask – By the Numbers
On Wednesday, longtime Boston Bruins goaltender Tuukka Rask retired at 34, releasing a statement through the Bruins' Twitter account. He had been attempting to come back from offseason surgery to repair a torn labrum in his hip. He was able to play in four games for Boston in mid-January before suffering a setback that ultimately led to his decision to hang up the pads.
The Finnish goalie had a successful NHL career and established himself as a Boston legend during his 15 years with the Bruins. Here are some numbers to illuminate just how much of an impact Rask had.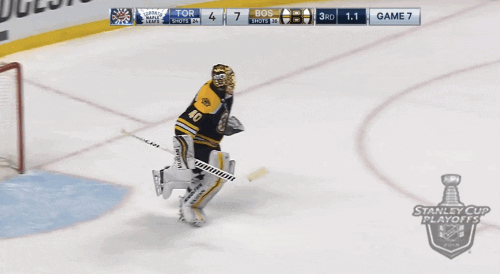 21st – Pick (overall) used to select Rask in the 2005 NHL Entry Draft by the Toronto Maple Leafs. He would never play a game for Toronto, as he was traded to Boston that offseason.
564 – Games Rask played in the NHL, all with the Bruins. He holds the franchise record for most games played by a goalie, 96 more than the next closest (Tiny Thompson, 1928-1939).
308 – NHL games in which Rask registered a win, also a Boston franchise record (56 ahead of Thompson) and ranks 33rd in league history.
57 – Postseason wins Rask had, again a franchise record. He helped lead the Bruins to three Stanley Cup Finals.
.921 – Rask's career save percentage, which ranks fourth in NHL history (among players who debuted in 1955-56 or later and played at least 100 games), tied with Juuse Saros and only .001 behind leaders Ken Dryden and Dominik Hašek.
1 – Times Rask won the Stanley Cup (2010-11), the Vezina Trophy (2013-14), and the William M. Jennings Trophy, given to the goaltender(s) with a minimum of 25 games played for the team with the fewest goals allowed that season (2019-20 with Jaroslav Halák).
0 – Other hockey players who have a species of wasp named after them. In 2015, entomologist and Boston sports fan Robert S. Copeland discovered a new wasp species in Kenya, calling it Thaumatodryinus tuukkaraski. He wrote, "This species is named after the acrobatic goaltender for the Finnish National ice hockey team and the Boston Bruins, whose glove hand is as tenacious as the raptorial fore tarsus of this dryinid species."
---
NHL Advice: Valentine's Day
Valentine's Day is four days away, and while most can agree it is a cheesy commercial holiday, a majority of us get suckered in—whether it's making a dinner reservation or purchasing a gift. With the holiday being days away, we shared some of our favorite players' responses and had our two newlyweds here at the Morning Skate weigh in.
Tyler Toffoli: Get some chocolate. Half the time they won't eat it so you can sneak it in for yourself. It's a double gift.
Kyle K: This only works if you and your significant other like the same kind of chocolate. If they don't like the type of candy that you do, or worse yet, they don't like chocolate at all, this gift will come off as lazy and as though you don't know your partner. On the other hand, if you do share the same taste in sweets, by all means, buy in bulk! 
Kristy F: Honestly, It's a smart strategy! I always leave leftover chocolate that my husband ends up eating. Get a larger box for her (earn some extra points) and enjoy some for yourself.
Jamie Benn: Maybe mix it up and don't get flowers every year, buy some shoes or something.
KK: Likely the only thing I will ever agree with Jamie Benn about, this is the best way to go. I bought my wife a pair of Jimmy Choo heels for our wedding, and she admitted it was the best gift she ever received. As long as you know the right style, color, and size, giving shoes will elevate your gift-giving status. 
KF: I do not know anyone who would turn down a new pair of shoes or a gift card to purchase a new pair of shoes. Some innovative thinking from the Dallas captain. 10 out of 10 recommend. 
Max Domi: Get some roses and a good card. Write a long message that means something to them and show that you care.
KK: Writing a note from the heart will always go a long way. Make it personal and sincere, and make it handwritten.
KF: Never forget the card. Plain and simple. 
Jacob Slavin: Get fake roses because they never die.
Anders Lee: Write a card, they go a long way.
KK: Your words will mean more than anything written on a card, so make sure you add a personalized note of your own. 
KF: Never underestimate a well-placed card and, as Domi said, write a personal message. It will be more meaningful than chocolates and flowers at an inflated price. 
Eric Staal may have summed it up best: Those holidays, they just throw them in there to get you to buy cards and flowers but it's good to do I guess. Just don't forget.
---
Second Half Preview: Central Division
That the surging Colorado Avalanche are comfortable atop the Central Division and the Arizona Coyotes are buried deep within its basement isn't surprising, even if the Yotes beat their divisional masters last Tuesday night because the NHL is weird. Beyond that, the Central has produced some mild surprises, although plenty is left in the air with three playoff contenders within three points of each other and five teams immersed in a 15-point glut.
Let's take a look in on the Central Division:
The Top Dog
Right now, it's the Avs' world, and we're just living in it. It has now been 56 days since Colorado was held without a point, a blazing stretch that has seen them go 15-0-2. Nazem Kadri's breakout season may merit some Hart Trophy consideration, Cale Makar has officially arrived as a bona fide superstar and perennial Norris candidate, and Mikko Rantanen and Gabriel Landeskog look poised to set new career-high point totals. Oh, and now Nathan MacKinnon is getting healthy again.
The Contenders
The race for second in the Central looks like a toss-up at the moment, with the Nashville Predators, Minnesota Wild, and St. Louis Blues all currently bunched together. A lack of depth in the Pacific Division (more on that tomorrow) means that whoever loses out on a top-three spot likely still has the inside track on a Wild Card position, but that will probably mean a first-round playoff date with the Avs or Vegas Golden Knights.
The Also-Rans
That trio has put their distance from the rest of the pack, with a seven-point buffer separating the Blues and Dallas Stars. Dallas is part of a clear lower tier of the Central, along with the Winnipeg Jets, who have fallen fast after reaching the second round of the playoffs last year, and the Chicago Blackhawks, whose expensive, veteran-laden roster has flopped thus far. And seriously, the less said about Arizona, the better.
---
NHL Standings
---
NHL's Leading Scorers
---
Today's NHL Schedule