Yesterday's NHL Scores
---
Last Night's News 📰
CHABOT IS BACK: On a night where Zdeno Chara tied Chris Chelios in games played by a defenseman, another blueliner with a surname starting with "Ch" enjoyed a career milestone. Thomas Chabot of the Ottawa Senators returned from an injury for his 300th game, notching an assist and scoring twice, including the game-winner, in the Senators' 4-3 win over the Minnesota Wild. 
LADD LAID UP 4-6 WEEKS: After colliding with Luke Glendening of the Dallas Stars, the Arizona Coyotes announced forward Andrew Ladd will be out four to six weeks with a lower-body injury. Ladd has six goals and three assists for nine points in 42 games for the Coyotes this season. 
🎵GET YOUR RIGHT HAND MAN BACK🎵: Hamilton! As in, Dougie Hamilton is back for the New Jersey Devils. Preparing to return from jaw surgery on Jan. 4, Hamilton will play in Thursday's game against the Pittsburgh Penguins. Also returning after missing two games with a lower-body injury for the Devils is Jesper Bratt, who leads New Jersey with 43 points in 45 games. 
SILLY SIGNS AND SKITTLES FOR STICKS: Mitch Marner and Kirill Kaprizov made stick trades with lucky fans on Tuesday night. In Ottawa, a Minnesota Wild fan held up a sign that read in Russian, "Kirill Kaprizov, my girlfriend won't let me come back home without a stick." The Russian forward happily obliged. Meanwhile, in Columbus, a young fan's sign asked Marner to trade his stick for a bag of Skittles. Smart kid to appeal to Marner's sweet tooth. 
KRAFT HOCKEYVILLE OPENS NOMINATIONS: Kraft Heinz Canada announced that nominations are open for Canadians to vote for their communities to become Kraft Hockeyville 2022. Nominations will close on April 3, 2022, at 11:59 p.m. EST and the winning community will receive $250,000 to be used for arena upgrades and will host a 2022-23 preseason NHL game.
---
Who Said It
1) "I just remember watching the All-Star game every year and seeing the fastest skater event and thinking how awesome it would be to be part of that."
A. Jordan Kyrou
B. Adrian Kempe
C. Kyle Connor
2) "Sometimes people ask, 'are hockey fights real?' I say, if they weren't, I'd get into more of them."
A. Mario Lemieux
B. Steve Yzerman
C. Wayne Gretzky
3) "Forget about style, worry about results."
A. Phil Esposito
B. Bobby Orr
C. Tie Domi
Answers can be found at the bottom of the email.
---
Chris Chelios & Zdeno Chara: Ageless Icons
From Chris Chelios' NHL debut on March 8, 1984, through to today, one of either Chelios or Zdeno Chara has plied his trade as an active player. That incredible 38-year span highlights the longevity of both superstar defensemen.
Last night, the two men became linked in history, as Chara tied Chelios' record for career games played by a blueliner, suiting up for his 1,651st contest in the New York Islanders' first-ever visit to Seattle on Tuesday. Considering their shared longevity at a physically taxing position, it seems like a good time to examine comparisons between the 26-year veteran Hall of Famer Chelios and the equally experienced Chara, with 24 seasons under his belt.
Age Is Just a Number
It takes a confluence of factors to stick around that long, from health to sustained high-level performance to an elite level of conditioning. The other trick: sticking around long after most of your peers have called it quits. Chelios played to age 48, long enough to see his career span four different decades. Similarly, Chara is a couple of weeks shy of his 45th birthday while spending his fourth decade in the NHL. Both men have spent multiple seasons reigning as the league's oldest player.
Decorated D-Men
You don't play 1,651 games in the NHL by being a scrub, and both Chelios and Chara have certainly made the most of their lengthy stays in the league. Each man has seven All-Star appearances to his credit, while the long-time Canadiens, Blackhawks, and Red Wings defender has three Stanley Cups and Norris Trophies to the towering Chara's one of each.
Chelios' Other Games Record
The shared status among Chelios and Chara as co-leaders in all-time games played by a defenseman will likely only last until Thursday when the Islanders visit the San Jose Sharks, and the long-time Boston Bruins captain claims the record for himself. Still, Chelios holds a record unlikely to fall anytime soon, boasting an NHL-best 266 postseason contests. Chara is no stranger to playing spring hockey, but even his 200 career playoff games trail the now-60-year-old significantly.
---
Referee Assaults That Led to Lifetime Bans
Paul Halloran, a junior hockey player in the United States Premier Hockey League (USPHL), received a lifetime ban after punching a referee in the face during a game on Sunday. 
Halloran, who played for the South Shore Kings, attacked the official who had just called a penalty on him as he was heading to the penalty box. The referee was knocked to the ice but got up and appeared to be okay. Following the incident, the USPHL tweeted out a statement from the commissioner saying that the 20-year-old's actions warranted a lifetime ban. Authorities are still looking into whether more charges are warranted. 
Violence has always been part of hockey since the sport's incarnation, but violence against officials is not only rare; it's almost non-existent. There is one other incident in hockey history similar to this one.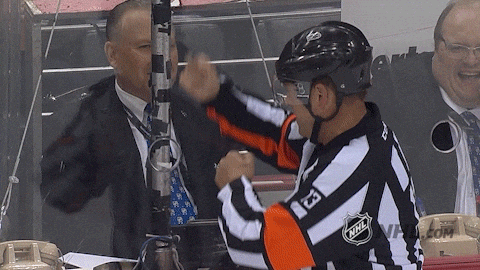 Incident
Billy Coutu, nicknamed "Wild Beaver," was an NHL defenseman in the 1920s. He played 10 seasons with the Montreal Canadiens, Hamilton Tigers, and Boston Bruins. He won the Stanley Cup as a member of the Canadiens in 1924-25 and was the team captain the following season.
However, Coutu is most known for how his NHL career ended. At the end of Game 4 in the 1927 Stanley Cup Final between his Bruins and the Ottawa Senators (a game the Senators won to clinch the title), he started a bench-clearing brawl by assaulting referee Jerry Laflamme and tackling referee Billy Bell.
Like Halloran, Coutu went after the referees because he and his team were unhappy with their calls. Unlike Halloran, who punched the linesman in the first period en route to the penalty box, Coutu attacked Laflamme and Bell in a corridor after the game on their way to the dressing room. Luckily, in both cases, the victims did not suffer serious injuries.
Aftermath
As was the case with Halloran, there was swift consequence against Coutu. NHL Commissioner Frank Calder immediately suspended him for life, making him the first and only player to receive a lifetime ban from the NHL. However, no legal action against Coutu came about after the incident.
Time will tell what happens to Halloran, but time already told the story of Coutu. His lifetime ban from the NHL was lifted in 1929, though he never played another game in the league. After being booted, he did play minor league hockey in the Canadian-American (Can-Am) Hockey League and the American Hockey Association (AMA) before retiring in 1932.
Shortly after retiring, Coutu was named head coach of the Canadian-American Hockey League's (CAHL) Providence Reds. He coached them for three seasons, winning a championship in his second season and getting ejected from a game for abusing a referee in his third season. Some things never change.
---
Who Said It Answers
1) Jordan Kyrou
2) Wayne Gretzky
3) Bobby Orr
---
NHL Standings
---
NHL's Leading Scorers
---
Today's NHL Schedule
---