Yesterday's NHL Scores
---
Last Night's News 📰
TOUGH DAY FOR LEAFS NATION: With the Toronto Maple Leafs mired in a three-game losing streak, things went from bad to worse on Wednesday as the organization announced that top prospect and former first-round pick, Rodion Amirov, has a brain tumor and will miss the remainder of the KHL season due to treatment. Later, the club placed Jake Muzzin on long-term injured reserve (LTIR) after suffering a concussion against Montreal. 
SCOREY PERRY STRIKES AGAIN: For the 400th time in his career, Corey Perry scored, notching the game-winner in last night's 5-3 win over the Edmonton Oilers. Now playing for the Tampa Bay Lightning, Perry has as many goals with the Lightning (14) as he did with the Montreal Canadiens (9) and Dallas Stars (5) combined. His other 372 tallies came while Perry was with the Anaheim Ducks. 
STADIUM SERIES CREW PREPARES FOR WEATHER: After learning its lesson in Lake Tahoe and at the 2020 Bridgestone Winter Classic in Dallas, the NHL is taking extra precautions to keep the ice at optimal conditions. Even with all the rain falling in Nashville this week, the ice is building stronger rather than melting away.
TIKTOK LOVES #HOCKEY: On Wednesday, the NHL and TikTok announced a partnership to deliver original content and unique experiences to grow the game with younger generations. The union will kick off with performances by TikTok stars on the TikTok Tailgate Stage at the upcoming Stadium Series in Nashville and Tim Hortons NHL Heritage Classic in Hamilton, Ontario, on March 13.
---
Top-Shelf Thursday — Most Fashionable Players
For years, fans have complained that NHL players don't show any personality, but is that 100 percent true? Sometimes you can learn a lot about a person by how they present themselves to the world, and while there are plenty of well-dressed players, only a handful use their style as a way to express themselves. Who are the most fashionable players in the league? Let's dive in.
PK Subban
Whether you like his style or not, you can't deny the defenseman's style is eye-catching. In 2016, he debuted a line of suits through Canadian clothier RW & Co. Sports Illustrated Fashionable 50 named Subban an "icon," and during an interview with Sharp Magazine, he described himself as someone creative and fashion-forward but with a style that is classic, clean, and sharp. When asked whose style he admires most, he said, "David Beckham."
Auston Matthews
During the 2020-21 season, the NHLPA conducted a player poll in which Auston Matthews received 21.16 percent of the votes, making him the most fashionable player in the league and overtaking reigning champion Henrik Lundqvist. In an interview with GQ, the Maple Leafs' forward stated his favorite brands are Gucci, Off-White, and Louis Vuitton. Curious as to who influences his style? That would be Russell Westbrook because of his unique style. 
David Pastrňák
The Bruins star is the first to admit his style is distinct, but he follows that up by saying, "as long as he feels good, he doesn't care what other people think." His most iconic outfits include his white and blue suit worn in May 2021 for Game 1 against the New York Islanders. During the All-Star Weekend, his teammate Patrice Bergeron was asked who the most stylish player is in the NHL and, without hesitation, said his linemate. With his unique style, Pastrňák is always a player to watch on and off the ice. 
---
By The Numbers: Pekka Rinne
Before their game against the Dallas Stars at Bridgestone Arena tonight, the Nashville Predators will retire former goaltender Pekka Rinne's number 35. Speaking of numbers, the 2017-18 Vezina Trophy winner put up plenty of them in his 15-year career in Nashville, which concluded last season. Here are just a few notable ones.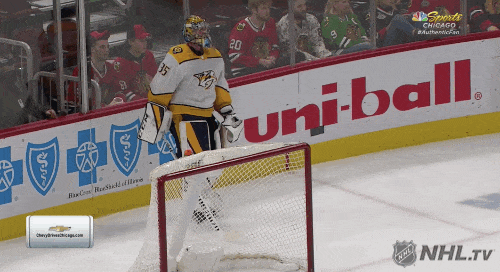 258th – Spot in the 2004 NHL Draft where the Nashville Predators chose Rinne. He was the 30th goaltender off the board that year, selected with the 31st pick in the eighth round. The Finn ended up having a more successful career than any of the 29 goalies (and many of the 257 skaters) drafted before him.
369 – Wins Rinne recorded in the NHL, the most victories in Preds history and tops among Finnish goaltenders. His 60 shutouts also rank first in both categories.
6 – Categories in which Rinne is Nashville's regular-season franchise leader: wins, shutouts, games (683), starts (667), goals-against average (2.43), and total saves (17,627). He also leads all Finnish goaltenders in NHL regular-season games, goalie starts, victories, and shutouts.
4 – Times Rinne was a finalist for the Vezina Trophy as the NHL's top goaltender. Before winning in 2018, he was runner-up in 2010-11, third in 2012-13, and runner-up again in 2014-15.
2 – Times Rinne earned top honor at the International Ice Hockey Federation (IIHF) World Championship. In 2014, he was awarded Most Valuable Player of the tournament after helping Finland capture a silver medal, and in 2015, he was named the tournament's best goaltender after setting a new IIHF record for most minutes played without allowing a goal.
12 – Number of goaltenders in NHL history who have scored a goal, a list that includes Rinne. He is the most recent to do it, potting an empty-netter against the Chicago Blackhawks on Jan. 9, 2020.
0 – Players' numbers that have been retired by the Predators. Rinne will be the first to receive the honor. His number 35 will be the first jersey that Nashville, a franchise that began in 1998, raises to the rafters. 
---
Coming Back After 40
Wednesday's news that notable super pest Sean Avery is attempting a pro hockey comeback with the Orlando Solar Bears of the ECHL elicited no shortage of chuckles and eye rolls. After all, it's easy to envision this as another outlandish publicity stunt from someone whose hockey and post-hockey careers have been full of them. Given that he's 41 years old and more than 10 years removed from his most recent NHL game, it's easy to laugh this one away.
However, before we downright dismiss the efforts of the 10-year veteran, let's appreciate the amount of work that Avery surely knows is ahead of him. Returning to the ice after age 40 isn't unheard of, but it certainly is rare. If anything, these veterans who resumed their NHL careers in their fifth decade on the planet highlight how difficult a climb the former New York Rangers forward has ahead of him and how dedicated he'll need to be to make it work.
Mario Lemieux
Mario Lemieux's legendary career featured multiple ups and downs and no shortage of comebacks. One of his less talked about returns came when he rejoined the Pittsburgh Penguins after the lockout to play alongside a rookie Sidney Crosby in what would be his last season—one whose opener coincided with his 40th birthday, no less! The New Jersey Devils played spoiler that night, but Lemieux still notched 22 points in 26 games to cap off one of hockey's most remarkable careers.
Chris Chelios
While we're on the subject of players who waited out the 2004-05 lockout in their 40s, who would've thought that Chris Chelios would still have more than 250 games in him after losing a full year at age 42? The Hall of Famer, whose record for all-time games played by a defenseman is poised to be surpassed by Zdeno Chara tonight, remained in the league through his 48th birthday and is one of two players (along with Gordie Howe) to stick around for 26 seasons.
Gordie Howe
Speaking of Mr. Hockey, the last chapter of Gordie Howe's career brought him away from Detroit so that he could join sons Mark and Marty with the WHA's Houston Aeros before returning to the NHL for one last hurrah as a Hartford Whaler. But this wasn't some ill-fated career wrap a la Martin Brodeur as a Blue. Howe recorded 508 points in 419 games over six WHA seasons before mustering 41 points as a 51-year-old in Hartford.
---
NHL Standings
---
NHL's Leading Scorers
---
Today's NHL Schedule
---