---
Last Night's News 📰
DUCK HUNT: The Anaheim Ducks got their man, announcing Pat Verbeek will be the next general manager, replacing Jeff Solomon after Bob Murray resigned following an investigation into his professional conduct. Verbeek has previously worked alongside his former teammate, Steve Yzerman, with the Tampa Bay Lightning and Detroit Red Wings.
ANOTHER BARRIER BROKEN: On Thursday night, Danielle Goyette made history as the ECHL's first female assistant coach when she filled in behind the bench of the Newfoundland Growlers, an affiliate of the Toronto Maple Leafs. A Canadian women's hockey legend and the current Leafs' Director of Player Development stepped up to help a short-handed Growlers' staff without head coach Eric Wellwood (COVID protocols). 
BELOW DECK-ER: An opening-round triumph for the Americans became overshadowed by the loss of their offensive star, Brianna Decker. Decker needed to be stretchered off the ice midway through the first period after getting tangled up with Ronja Savolainen of Finland and will miss the rest of the tournament. Even without its alternate captain, the US outshot the Finns 52-12 on the way to winning 5-2. 
VIVA LAS VEGAS: Yesterday began the All-Star festivities in Las Vegas, as the 2022 Truly Hard Seltzer NHL Fan Fair kicked off the weekend. Open through Sunday evening at the Las Vegas Convention Center, the Fan Fair will offer activities, events, and traveling exhibitions for fans of all ages. 
---
Friday Favorites
Let's look back at our favorite moments of the week.
Officially in the Rafters
Henrik Lundqvist's number is now hanging where it belongs in the rafters of Madison Square Garden. It was a special night for the New York Rangers organization and their fans as they celebrated their franchise goaltender one last time. Lundqvist stood next to his wife and children and watched his number 30 lift high above the ice to its rightful place. The 52-minute ceremony was a tear-jerker that included special guests like John McEnroe and gifts from guitars to a custom Louis Vuitton steamer trunk. 
Hats Off
Auston Matthews entered the All-Star break with six points in two games against the New Jersey Devils. He scored a hat trick while recording an assist at Scotiabank Arena on Monday and then added a goal and assist the next night at the Prudential Center. Matthews has five career hat tricks, two of them coming against the Devils. Currently, he leads the Maple Leafs with 51 points, which is good for 11th in the league. 
Quinton Byfield, Meet Quinton Byfield
The most adorable moment of the week was brought to us by Quinton Byfield when the LA Kings center met "little Quinton" before a game against the New York Rangers at Madison Square Garden and reunited with him during an NHL Now segment. Little Quinton and his parents were joined by "big Quinton," who invited the entire family out to LA to see a game at Crypto.com Arena. 
---
All-Star Skills Competition Preview
NHL All-Star Weekend kicks off tonight in Vegas with the Skills Competition, now officially known as the NHL All-Star Skills presented by DraftKings Sportsbook, beginning at 7:30 PM ET on ESPN, Sportsnet, and TVA Sports. Here is what you need to know about the seven skill-based events.
Verizon NHL Fastest Skater
This event, where players skate one lap around the rink, is again headlined by Connor McDavid (Edmonton Oilers), who won the event three straight years from 2017 to 2019. He was upset by Mathew Barzal (New York Islanders) in the last All-Star Skills competition held. Dylan Larkin (Detroit Red Wings) owns the record for fastest time recorded (13.172 seconds in 2016) and joins Chris Kreider (New York Rangers), Adrian Kempe (Los Angeles Kings), Kyle Connor (Winnipeg Jets), Evgeny Kuznetsov (Washington Capitals), Jordan Kyrou (St. Louis Blues), and Cale Makar (Colorado Avalanche) in the race.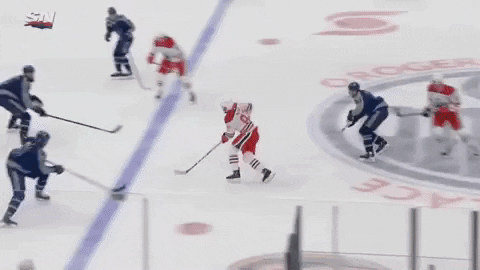 Dunkin' NHL Save Streak
Introduced in 2018, goaltenders try to make as many saves as they can against shooters from the other three divisions, and the goalie with the longest streak of saves wins. Marc-André Fleury (then of the Vegas Golden Knights) won the event's debut with a save streak of 14, Hendrik Lundqvist (Rangers) won in 2019 with 12, and Jordan Binnington (Blues) won the most recent event with 10. This year's participants include Jack Campbell (Toronto Maple Leafs), Andrei Vasilevskiy (Tampa Bay Lightning), Frederik Andersen (Carolina Hurricanes), Tristan Jarry (Pittsburgh Penguins), Cam Talbot (Minnesota Wild), Juuse Saros (Nashville Predators), Thatcher Demko (Vancouver Canucks), and John Gibson (Anaheim Ducks).
Discover NHL Fountain Face-Off
A special event for this year, this competition takes place on the famous Bellagio Fountains in Las Vegas. Players travel by boat to the "rink" in the fountain and will shoot and hit five targets in as little time as possible, with the top two players advancing to a head-to-head final. Former U.S. women's hockey player Jocelyne Lamoureux-Davidson will take part in the event, along with NHL players Jonathan Huberdeau (Florida Panthers), Claude Giroux (Philadelphia Flyers), Jordan Eberle (Seattle Kraken), Roman Josi (Predators), Nick Suzuki (Montreal Canadiens), Zach Werenski (Columbus Blue Jackets), and Mark Stone (Golden Knights).
EA SPORTS NHL Hardest Shot
This one is pretty self-explanatory. Of all the events, this one has taken place the most often. Zdeno Chara (then of the Boston Bruins) holds the record by rocketing a 108.8 MPH (175.1 KPH) shot in 2012. Shea Weber (Canadiens) won the most recent event with a blast of 106.5 MPH (171.4 KPH). This year's combatants are Adam Pelech (Islanders), Timo Meier (San Jose Sharks), Victor Hedman (Lightning), and Tom Wilson (Capitals).
adidas NHL Breakaway Challenge
The Breakaway Challenge is the hockey version of a dunk contest, where players try to perform the most creative breakaway goals, as voted on by the fans. This year will feature celebrity goalies who the competitors will be going up against in Manon Rhéaume, the first (and only) woman to play in the NHL, and actor Wyatt Russell, who used to play hockey before his success in Hollywood. Facing them in the Breakaway Challenge will be Kirill Kaprizov (Wild), Trevor Zegras (Ducks), Jack Hughes (New Jersey Devils), Alex DeBrincat (Chicago Blackhawks), and Alex Pietrangelo (Golden Knights).
Las Vegas NHL 21 in '22
Another unique event for 2022 is Blackjack combined with street hockey. Set in the middle of the Las Vegas Boulevard, the competitors will try to achieve a 21 without going bust by taking shots at giant playing cards. The participant who gets closest to 21 in the least number of attempts wins the round, and the first person to win two rounds wins the event. Players taking part in this Vegas-centric game are Nazem Kadri (Avalanche), Auston Matthews (Maple Leafs), Joe Pavelski (Dallas Stars), Steven Stamkos (Lightning), and Brady Tkachuk (Ottawa Senators).
Honda NHL Accuracy Shooting
The goal of the Accuracy Shooting event is to hit four targets attached to the four corners of the net in the quickest time. However, the competition has seen several different modifications over the years. Jaccob Slavin (Hurricanes), a defenseman, won it in 2020. This year's contenders include Leon Draisaitl (Oilers), Clayton Keller (Arizona Coyotes), Rasmus Dahlin (Buffalo Sabres), Sebastian Aho (Hurricanes), Jake Guentzel (Penguins), Troy Terry (Ducks), Johnny Gaudreau (Calgary Flames), Patrice Bergeron (Bruins), and Jonathan Marchessault (Golden Knights).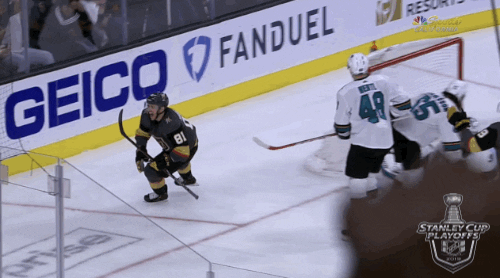 ---
NHL-Olympic Roster Doppelgängers
As was the case in 2018, this year's men's Olympic hockey tournament in Beijing promises to feel the same, but different. Sure, the countries represented on the front of jerseys will be familiar, and we'll get at least one new chapter of the Canada-USA rivalry next weekend. But whether it's the 13-hour time difference or watching unknowns like Brian O'Neill and Corban Knight factor heavily into the battle for gold, following this year's tournament feels a bit odd.
As you enjoy the Opening Ceremonies for the Games, maybe reading up on some Olympic roster comparisons to NHL clubs will help things feel a little more normal.
Team Canada = Ottawa Senators
Canadians may not love seeing their Olympic representation compared to the lowly team residing in the nation's capital, but there are some significant parallels here. They both feature a young, foundational anchor on the blue line (Owen Power and Thomas Chabot), a talented but tough second-generation forward upfront (Mason McTavish, whose dad is Dale McTavish, and Brady Tkachuk), and plenty of questions between the pipes.
Team USA = New Jersey Devils
No, this isn't merely the Canadian member of the Morning Skate team likening the Americans to a club whose team name is the Devils, although that would be a pretty good troll job. Instead, the similarity is straightforward—both the US and New Jersey trend incredibly young in age. On Team USA, 15 members of the 25-man roster are collegiate players, while the current iteration of the three-time Stanley Cup champs features 11 players aged 23 or younger.
Team ROC = Edmonton Oilers
While the Russian Olympic Committee team lacks a Connor McDavid or Leon Draisaitl, their forwards boast similar high-end skills in KHL-leading scorer Vadim Shipachyov and former NHLers Nikita Gusev, Mikhail Grigorenko, and Artem Anisimov. But much like the Oilers, the questions come on the defensive end of the ice, where the Russians will have to lean on Slava Voynov and Nikita Nesterov on the blue line and hope for a breakout from one of three largely untested goaltenders.
---
NHL Standings
---
NHL's Leading Scorers
---