Yesterday's NHL Scores
---
Last Night's News 📰
HEADING HOME HAPLESS: For the 21st time in the past 25 games, the Edmonton Oilers surrendered the first goal to their opponents. Although the Oilers would come back to take the lead on the Toronto Maple Leafs, a third-period power-play marker by Ilya Mikheyev sent the Oilers home winless following their five-game road trip. 
NINE IN A ROW: Back-to-back third-period goals by Sidney Crosby and Evan Rodrigues helped the Pittsburgh Penguins to their ninth straight win last night over the St. Louis Blues. Bryan Rust had two second-period tallies for the Pens, while Brayden Schenn opened the scoring for the Blues with his 200th career goal.
AMENDING FOR ATTENDANCE: On Wednesday, the NHL announced three more games postponed due to attendance restrictions in Canadian cities. Two games for the New Jersey Devils (at Montreal on Jan. 15 and Toronto on Jan. 17) and one for the Chicago Blackhawks (at Edmonton on Jan. 18) will be rescheduled when restrictions have been eased or lifted. 
---
Who Said It — Press Conference Challenge
Let's look back at some of our favorite quotes from the past week and see if you can figure out who said it.
"It's not nice being thrown under the bus. I have to be better but at the same time, we scored seven goals in my last six losses. I can't score goals."

Philipp Grubauer
Mackenzie Blackwood
Mikko Koskinen
Carter Hart



"I'm not thinking about my [next] contract, not thinking about money. I'm a pretty rich guy."

Evgeni Malkin
P.K. Subban
Claude Giroux
Phil Kessel



"I was looking over my shoulder for a polar bear. That's how cold it was out there."

Matt Dumba
Ryan O'Reilly
Marcus Foligno
Vladimir Tarasenko
Answers can be found at the bottom of the email.
---
Top-Shelf Thursday – Top Scorers by Calendar Year
On Tuesday night, Florida Panthers forward Joe Thornton tipped in a power-play goal in the second period of the Panthers' 6-2 win over the Calgary Flames. It was the 42-year-old's fourth goal of the season and 429th of his career. Since it occurred four days into 2022, it also marked the 26th straight calendar year in which Thornton has scored a goal. That means every year from 1997 to 2022 included a Thornton goal.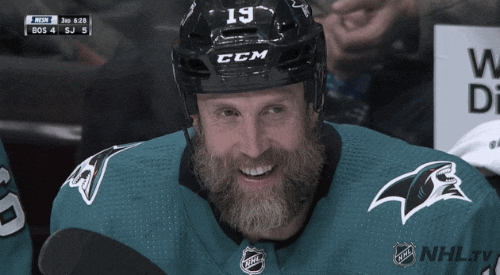 That got me thinking about what NHL players have scored goals in the most calendar years. It took some digging (I found the list of players who have played the most seasons in the NHL and went from there), but I found the players who (by my calculations) have scored a goal in the most calendar years. Unsurprisingly, you may see some familiar names on the list.
1. Gordie Howe (28)
Led by a name that all hockey fans know. Tied with defenseman Chris Chelios for the most seasons played in the NHL (26), it makes sense that the man who ranks second to Wayne Gretzky in career goals would be atop this list. Howe scored a goal in 26 consecutive years (1946 to 1971), then returned to tally goals in 1979 and 1980.
2. Jaromír Jágr (27)
Another prolific scorer, Jágr ranks third in career goals and fourth in seasons (24). Throughout his career that included nine different stops in the NHL, Jágr scored a goal in 19 straight calendar years between 1990 and 2008. He returned three years later, recording a goal every year between 2011 and 2018.
T-3. Joe Thornton & Mark Messier (26)
Jumbo Joe comes in tied for third on this list following his goal on Tuesday night. The man he's tied with is Oilers/Rangers legend Mark Messier. Neither Thornton (24 NHL seasons) nor Messier (25) took a year off. They share the record with Howe for most consecutive calendar years with a goal. Messier, who's ninth all-time in career goals, found the net every year between 1979 and 2004.
T-5. Patrick Marleau & Dave Andreychuk (25)
Rounding out the top five are two more skilled goal-scorers who played fewer NHL seasons than the other four (both played 23 seasons). Like Thornton and Messier, Marleau and Andreychuk didn't take a break, tallying a goal in 25 calendar years in a row. Andreychuk, who ranks 15th all-time in NHL goals, did it between 1982 and 2006, while Marleau, who ranks 23rd, managed the feat from 1997 to 2021.
Interestingly, everybody on this list ranks in the top-25 in all-time NHL goals except Thornton. That shows that this relatively-obscure feat isn't just about goal-scoring prowess but rather a combination of goal-scoring, longevity, and timing.
---
Building Team Canada: Time to Get Creative
With the announcement that the NHL was opting out of Olympic participation ahead of February's Beijing Games, the attention naturally focused on the players who found themselves losing out on the opportunity to represent their country. Less emphasized was the sudden shift required of national team executives whose pool of potential roster candidates was suddenly very different.
For Hockey Canada, the perennially contending Canadian side would be particularly affected given that every member of the team was practically guaranteed to be from the NHL. Now, a different direction is needed. So, where will new GM Shane Doan and senior vice-president Scott Salmond find their new Team Canada? Recent reports about those getting long looks could offer hints to where the players are coming from.
The NCAA
Not a single member of the non-NHL Canadian Olympic team that won bronze at the 2018 Games came from the NCAA college ranks, but that looks likely to change this time around. Reigning No. 1 overall pick Owen Power returned to Michigan this season and looks like the closest thing to a lock despite having yet to make his NHL debut. Could Wolverines teammate Kent Johnson join him in China?
The 2018 Team
Unfortunately for Canada, age looms large as a deterrent here. None of the country's top-10 scorers from the 2018 tournament is under 34, with many having hung up their skates in the interim. Still, players like Eric O'Dell, Cody Goloubef, and Christian Thomas carry Olympic experience, even if they don't exactly inspire much excitement from the red and white faithful.
The AHL
Players on one-way AHL contracts are reportedly eligible for Olympic play, which opens the door to veterans hoping to land one last NHL contract who are now suddenly empowered by their lack of job security. The biggest name in play is three-time All-Star Devan Dubnyk, who could be the No. 1 option between the pipes. Other players to watch include former NHLer Tyler Wotherspoon and Adam Cracknell.
International Leagues
Yeah, I saved what appears to be the predominant source of 2022 Olympians for the Canadian men's hockey team for last. Whether they're coming from Sweden (Éric Gélinas), Switzerland (David Desharnais), or Russia (Ryan Spooner, Corban Knight, Jason Demers—too many KHL candidates to name), the bulk of the roster will likely come from this group.
---
Who Said It Answers
---
NHL Standings
---
NHL's Leading Scorers
---
Today's NHL Schedule
---