Yesterday's NHL Score
---
---
Last Night's News 📰
MEMORIAL ENDING: For the first time in Memorial Cup history, three-on-three hockey decided an overtime victor. Wednesday's game between the host Saint Johns Sea Dogs and the Edmonton Oil Kings required extra time, with Jaxsen Wiebe notching the game-winner to complete the hat trick. 
SOME PEOPLE CALL ME MAURICE: Florida announced it hired Paul Maurice on Wednesday, replacing interim coach Andrew Brunette, who led the Panthers to the Presidents' Trophy. Maurice resigned as head coach of the Jets in December following nine years in Winnipeg.
CONTACT YOUR REPRESENTATIVE: In light of being fully transparent, the Professional Hockey Writers Association (PHWA) published the 2022 NHL Awards ballots submitted by the 196 writers who voted on the six major awards, All-Star, and the All-Rookie teams yesterday. Find out how your favorite PHWA writers voted this year—you might even see a familiar name or two in there! 
BACK WITH A VENGEANCE: Nazem Kadri's first taste of playoff action since Game 3 of the Western Conference Final on June 4 was eventful. Kadri, sidelined with a thumb injury stemming from being hit from behind by Evander Kane of the Edmonton Oilers, scored the controversial overtime winner in the Colorado Avalanche's thrilling 3-2 victory over the Tampa Bay Lightning in Game 4 of the Stanley Cup Final to take a 3-1 series lead.
TOO MANY MEN-TIONS: Social media was divided last night following the Game 4 overtime thriller, as Jon Cooper alluded to a missed call by the officials. It appeared that Nazem Kadri left the bench early to play the puck before Nathan MacKinnon was within the allowed halo coming off the ice. While fans question whether the league should have reviewed the call, the teams will prepare to travel to Denver for Game 5 on Friday. 
---
Top Shelf Thursday – Top Home Playoff Records
For much of Game 4 in Tampa last night, it looked like the Lightning were going to even the series at two games apiece and continue a trend of teams winning at home this postseason. The Colorado Avalanche ultimately won 3-2 in overtime, but home teams are still a combined 54-33 in the playoffs this year. In light of this homemade success, let's look at the three best postseasons for home teams in playoff history.
2013 Playoffs (59 Home Wins)
The most home games ever won in a single postseason is 59, and it occurred in 2013 with the hosts going a collective 59-27. Like the first-round series between the Carolina Hurricanes and the Boston Bruins this year, all seven games of the 2013 second-round series between the Los Angeles Kings and San Jose Sharks went the way of the home team (the Kings won the series). It's no surprise the Cup champion Chicago Blackhawks led the way that season, winning 11 playoff games at home, tied for the second-most all-time.
1991 Playoffs (57 Home Wins)
Home teams went 57-35 during the 1991 Playoffs. Three six-game series featured the home team winning all but one game, and nine series ended in home victories. Despite this year including the second-most home wins in a single postseason all-time, no single team won more than nine games at home, and the Stanley Cup Final ended with the road team, the Pittsburgh Penguins, routing the host Minnesota North Stars 8-0.
2014 Playoffs (56 Home Wins)
One year after host teams won 59 playoff games, the good guys went 56-37 during the 2014 postseason. No single team won more than eight home games, but five series—four that went six games and one of the five-game variety—featured the majority of the crowd going home happy in all but one game. That trend included the Final, with the Kings capturing the Cup in five games in California.
---
It Shoulda Been Me!
It isn't a controversial take to suggest that Cale Makar is quickly developing into one of the game's preeminent superstars and, quite possibly, the best defenseman to come around in a long time. A vital component of the Colorado Avalanche's ongoing push for the Stanley Cup, the 23-year-old will win plenty of Norris Trophies before his career has ended. On Tuesday, he won his first, albeit one he may not have entirely deserved.
Makar was phenomenal this season (28 goals, 86 points, and a plus-48), but Nashville Predators defenseman Roman Josi just happened to be better. The 32-year-old managed 10 more points, becoming the first blueliner to crack the 90-point plateau since Ray Bourque in 1993-94. Josi's snub got us thinking: which other players have been done dirty by the NHL Awards?
Martin Brodeur Over Roberto Luongo (Vezina, 2003-04)
Martin Brodeur's four Vezina wins stand as a testament to his greatness, but maybe the legendary goaltender has one too many? On a New Jersey Devils team at the height of their smothering powers, Brodeur boasted a .917 save percentage (SV%) and 2.03 goals-against average (GAA) while seeing fewer than 25 shots a night. Contrast that to Roberto Luongo, who sported a .931 SV% while facing more shot attempts than any other netminder. It should have been Bobby Lu's year.
Wayne Gretzky Over Mario Lemieux (Hart, 1988-89)
Look, neither one of these hockey icons—with 12 Hart trophies between them—was left wanting for hardware over their decorated careers. The problem is that Wayne Gretzky's ninth and final Hart came in the 1988-89 season when Mario Lemieux posted an obscene 199 points in just 76 games. The Great One had a predictably sensational season but fell 31 points shy of his fellow legend in two more games played.
Drew Doughty Over Erik Karlsson (Norris, 2015-16)
By the 2015-16 season, Drew Doughty had two Cups on his resume and several stellar seasons, but no Norris Trophies. Voters decided to rectify that, unfortunately at the expense of Erik Karlsson, the two-time winner who'd had a better season. Playing on a bad Ottawa Senators team, Karlsson's 82 points were 31 better than Doughty's 51. Strangely, Karlsson finished higher in the Hart voting that year.
---
GM of the Year Primer
The 2022 NHL Awards took place on Tuesday night. Not only were the winners of the Hart, Calder, Vezina, Norris, and Ted Lindsay announced, but the league also revealed the finalists for the Jim Gregory General Manager of the Year Award. Here is a look at each of the three finalists.
Julien BriseBois, Tampa Bay Lightning
Brisebois is in his fourth season as GM of the Lightning, and the team has made the Stanley Cup Final in three of those seasons. Tampa Bay brought back its veteran core for the 2021-22 season, along with depth signings in backup goalie Brian Elliott and winger Corey Perry. Then the Bolts acquired a couple more forwards at the 2022 trade deadline in former Chicago Blackhawks forward Brandon Hagel and Ottawa Senators winger Nicholas Paul.
Elliott went 11-4-3 while sporting a 2.43 goals-against average (GAA) and a .912 save percentage (SV%) behind Andrei Vasilevskiy. Perry recorded 40 points (19 goals, 21 assists) in 82 regular season games and has nine points (six goals, three assists) this postseason. Meanwhile, Hagel notched 13 points (six goals, seven assists) in 42 total games since arriving in Tampa, and Paul registered 23 (10 goals, 13 assists) in 41 games with the Lightning.
Chris Drury, New York Rangers
Following his promotion to president and general manager last May, Drury immediately got to work. He hired Gerard Gallant as head coach, acquired wingers Barclay Goodrow and Ryan Reaves through trades, and gave long-term contracts to Reaves, top-line center Mika Zibanejad, and 2021 Norris Trophy winner Adam Fox. At the 2022 deadline, he added Frank Vatrano, Andrew Copp, Tyler Motte, and Justin Braun.
The Rangers exceeded preseason expectations, going 52-24-6 this season and making it to the Eastern Conference Final, where they fell to the Lightning in six games. Gallant was a finalist for the Jack Adams Award as the league's top coach, and Igor Shesterkin won the Vezina Trophy as the league's top goaltender.
Joe Sakic, Colorado Avalanche
Sakic has been in charge in Colorado since 2013. He acquired goaltender Darcy Kuemper in a trade and signed center Darren Helm last summer, then went out and got defenseman Josh Manson, forward Andrew Cogliano, and forward Arturri Lehkonen at the trade deadline.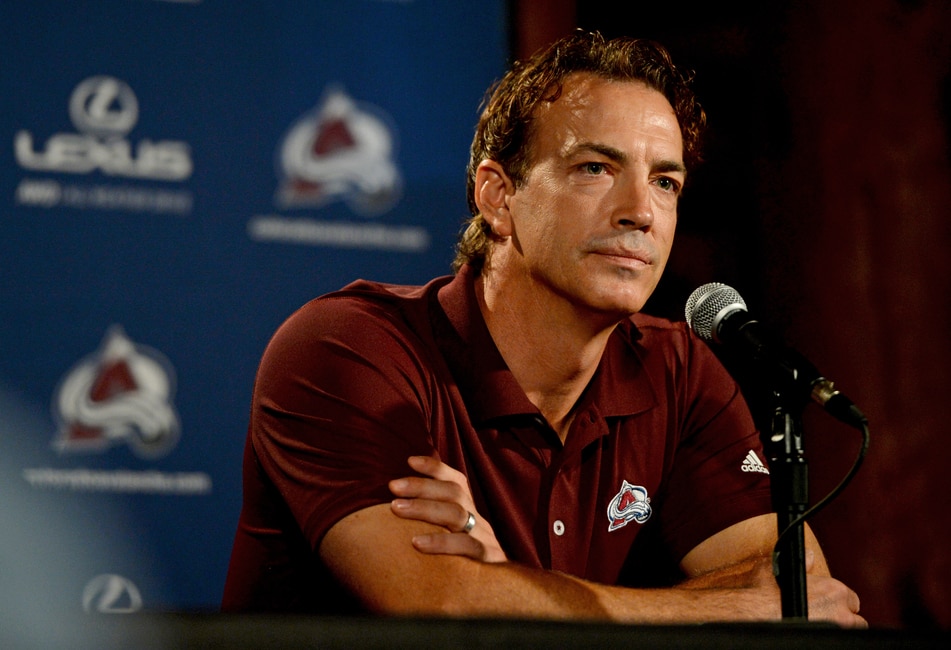 Those players are now integral parts of a team led by speedster Nathan MacKinnon and Norris Trophy winner Cale Makar that finished first in the Western Conference. Colorado is one win away from its first Stanley Cup title since 2001 when Sakic was a player for the Avalanche.
---
Stanley Cup Playoffs Bracket
---
Stanley Cup Playoffs Leading Scorers
---
Stanley Cup Final Schedule
---